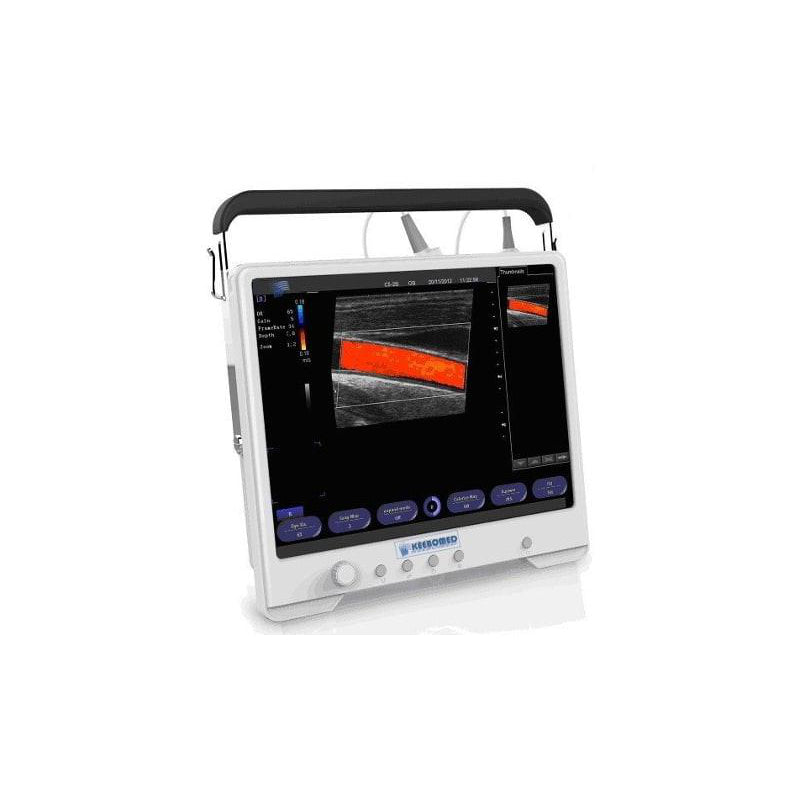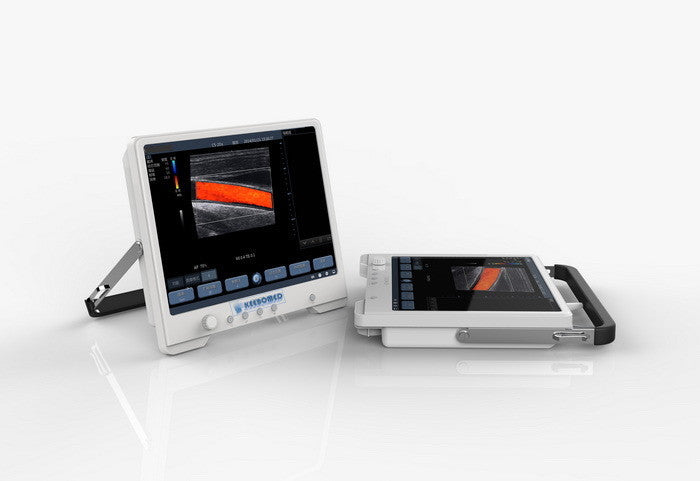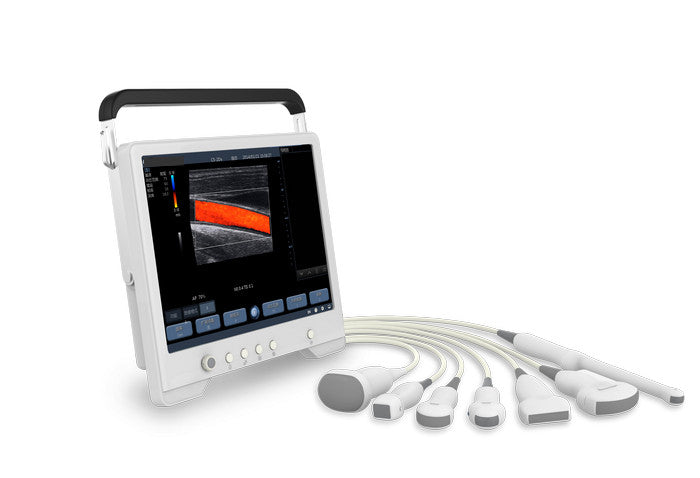 Introducing the KeeboTouch 30V Color Doppler Ultrasound PW Mode
The newest Touch screen Ultrasound on the market, the 30V is equipped with many useful functions including: information management, body marks, OB tables and specialized measurement packages. 
30V is good for small or mixed animal practices and is exceptional for farm use with Bovine and Equine Classifications.   
The one-touch feature allows for: streamlined exams, quick diagnosis and decisive action in critical situations.   
Fast and with very little downtime, the system is ready to use in 40 seconds.  This simplifies the process and increases productivity. 
This powerful color doppler ultrasound is affordable making it an indispensable part of your practice
Standard:
Main Unit—KeeboTouch 30V
Rectal Liner probe
110-240V AC Power Cord
Basic User's Guide
12 months warranty (both for machine and probe) under PRO-SUPPORT
Optional:
DICOM 3.0 support
Supported Printer and Video Printer
Linear Abdominal Probe
Micro-Convex Probe
Convex Probe
Additional 12 months warranty for ultrasound unit under PRO-SUPPORT
Features:
15" LCD Touchscreen Monitor
Gray Scale—256
B&W Mode— B, M, 2B, B/M, 4B, C, PW, POWER DIR-POWER, THI
Transducer Frequency 2-11Mhz
Digital Technology
Wide Angle imaging
Panoramic Imaging/focusing technology
Rolling M Technology
Frequency Composite
Real-time Dynamic Aperture
Tissue Harmonic Imaging
Scanning Depth—220 mm
Image enhancement presets for specific applications
Auto-Export--save and/or transfer images taken during exams 
Technical Specification

Mode: B,M,2B,B/M,4B,C,PW, Power,DirPower,THI

Gray sacle: 256

Display: 15"LCD monitor

Touchscreen: Full Touchscreen

Transducer frequency: 2-11Mhz

Digital technology: Wide-angle imaging

Panoramic focusing technology

Compatible with high and low speed blood

Rolling M technology

Panoramic imaging

Frequency composite

Space compound

Real-time Dynamic Aperture

Tissue Harmonic Imaging

Scanning depth: 220mm

Imaging Processing

Pre-processing: Cloud processing technology

Fine blood flow imaging ,high sensitive

8-segment TGC

Gain

Dynamic range

Persisitence

M Soften

Noise suppression

Post-processing: Image enhancement

Gray-scale Map

Pseudo Color Map

Tissue Specific Imaging

Interface to turn 180°

Left/right reverse

Up/down reverse

Functions

Smart touch-screen design Supported

Cine-loop: 341 frame cine loop memory

USB ports: 2

Zoom: Pan zoom for the active image

Amplification: 10 times

THI: Tissue Harmonic Imaging

Qopt: One-key Optimize

Multi language: Supported

DICOM: DICOM3.0

Print: Report print for text&graph&image

Measurement & Calculations

B mode: Distance, angle, area, volume, trace length,

distance ratio, area ratio, histogram

M mode: Distance, time, slope, Heart Rate

Software packages: Abdomen,obstetric,Gynecology,Cadiac,Neural and Small Parts

Others

Transducer connector: 3 active transducer connector ports

Peripheral ports: Video,2 USB ports,1 networking port,1 power inlet

Power supply: 100-240V~ 50/60Hz <100VA

Dimensions(main unit): 358mm(W)*366mm(L)*65mm(H)
Packing dimensions : 415mm(W)*435mm(L)*140mm(H)
Net weight: About 3.0kg

Gross weight: About 4.5kg

Multi-frequency probes

3.5 MHz convex probe(R60)

Application:

Abdomen,GYN,OB

7.5 MHz linear probe(L40)

Application:

Vascular,Small Parts
6.5 MHz transvaginal probe(R13)

Application:

Vaginal

6.5 MHz micro-convex probe(R15)

Application:

Infant Cardiac, Infant Abdomen
5.0 MHz micro-convex probe(R20)
Application:

Infant Cardiac, Infant Abdomen

Standard Configurations

Q3 color main unit

15"LCD with high resolution: 1024*768

Touchscreen

Two USB ports

One s-video out port

One networking port

One power inlet

One convex probe(3.5M R60)

Three transducer connectors

Plenty of measurement&calculation software packages

18 months warranty since ex-factory date for main unit

12 months warranty since ex-factory date for probes

Optional

Probes:


3.5 MHz convex probe(R60)
7.5 MHz linear probe(L40)
6.5 MHz transvaginal/transrectal probe(R13)
5.0 MHz micro-convex probe(R20)
6.5 MHz micro-convex probe(R15)

Power supply:

Built-in Lithium battery power supply system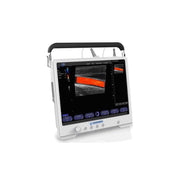 KeeboTouch 30V