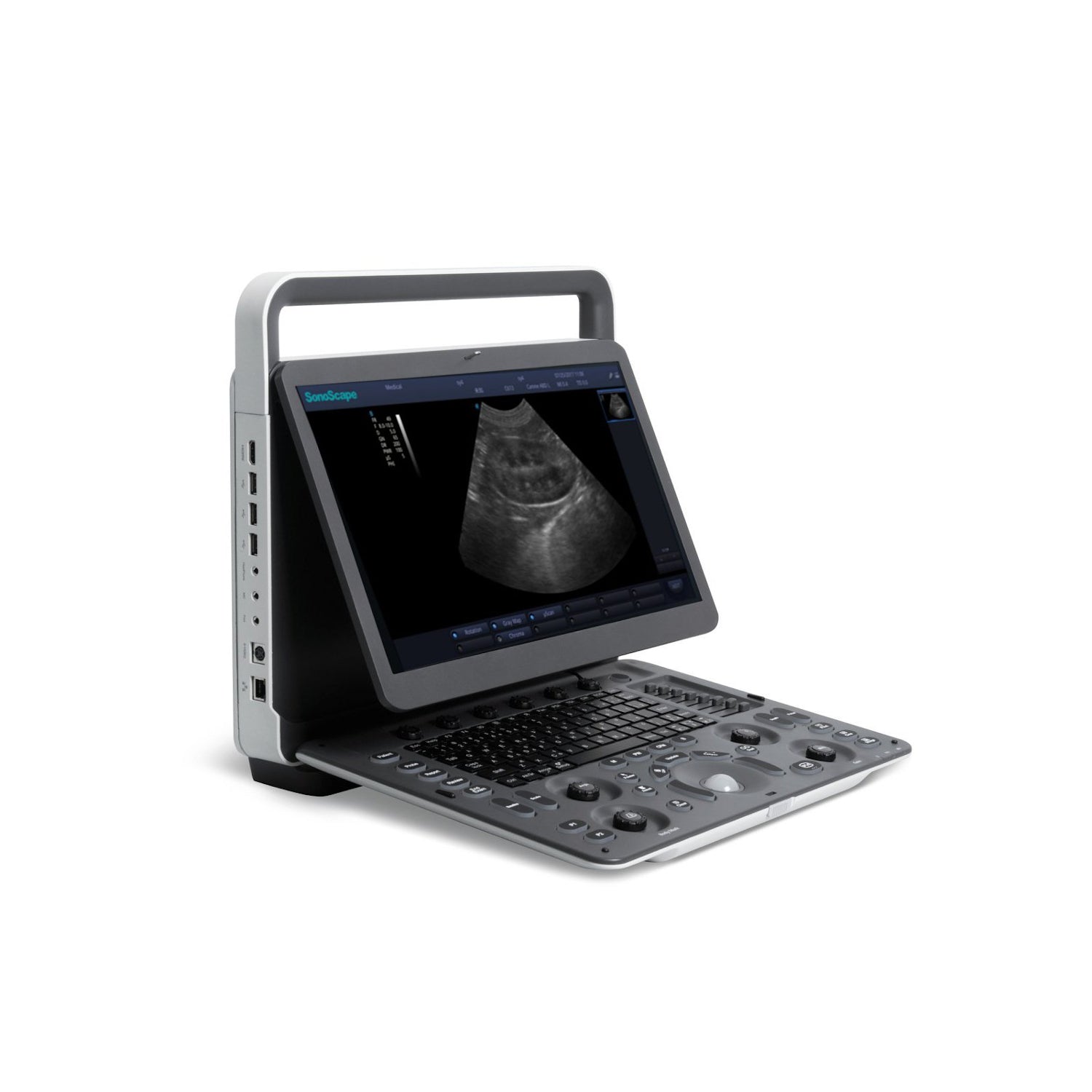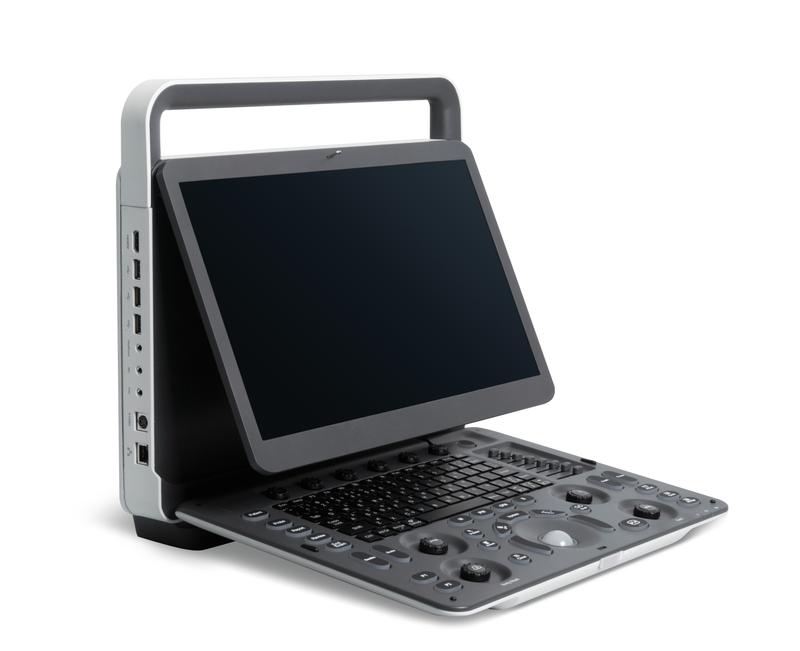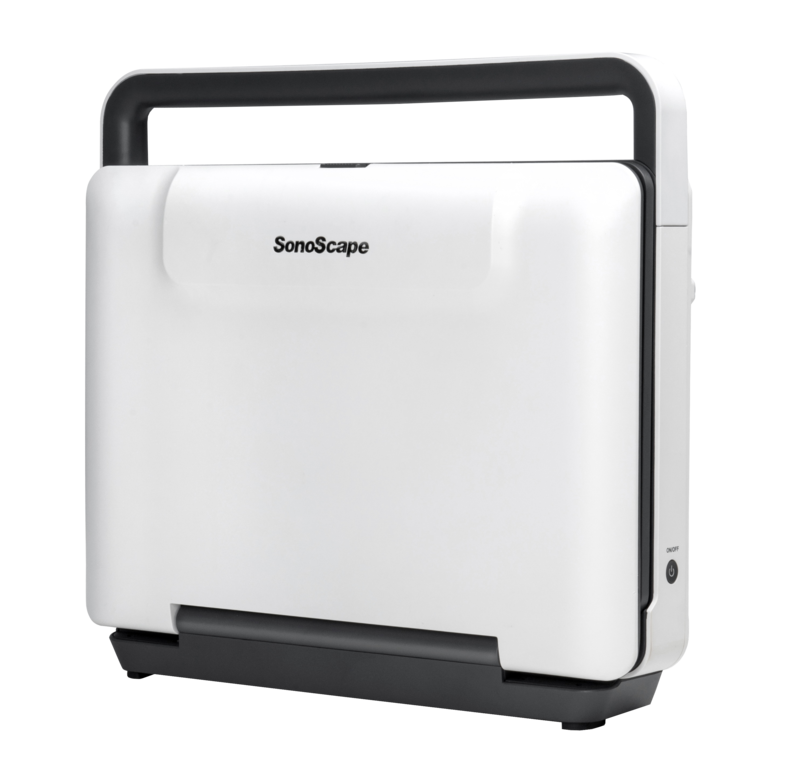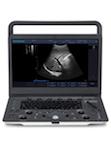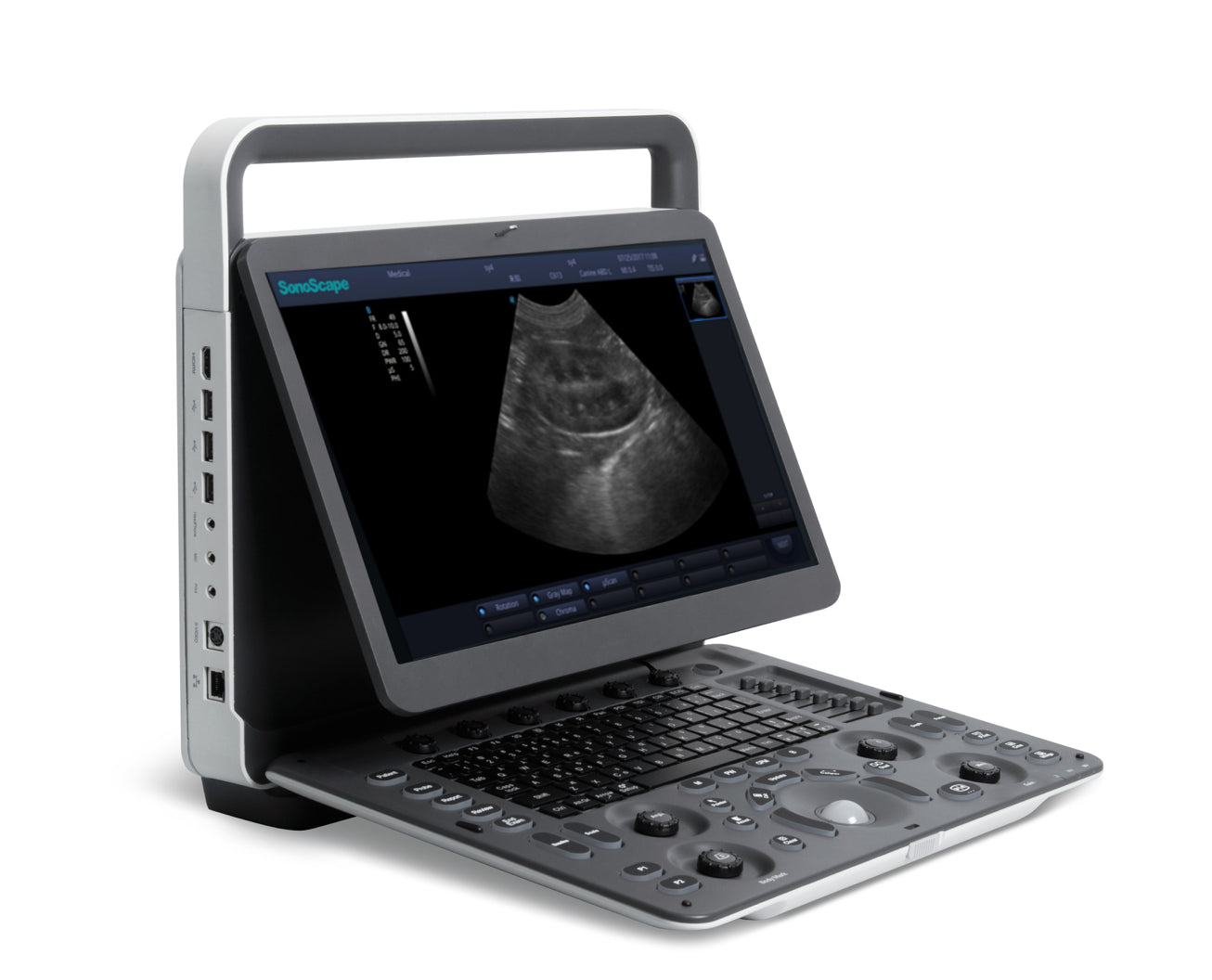 A6V Expert E1V - Newest Advanced B/W Ultrasound
Upgraded A6V with:
Image quality improved by 40% over the A6V.

15" LED Screen

Sleek Modern Design

High Frequency probes up to 16MHz

 As a newly released hand carried B/W ultrasound model, A6V to E1V is equipped with exclusive functions that enhances its competitiveness with entry-level ultrasound models. It not only provides satisfying image quality but also gives users a smooth workflow experience.
Ergonomic Design
Up to 3 Transducer Ports

Lightweight and Compact

Large 15.6" Anti-flickering HD LED Screen

Tilting Monitor Angle Adjustment

Backlit Keyboard and Intelligent Panel

Long-lasting Battery for 90 mins
Veterinary Software
Professional veterinary measurements and calculations

Full library of body marks and annotations

Information management and reporting for veterinary

User-definable exam modes for different animal types
At Keebomed, Inc. we are the exclusive seller of SonoScape A6V Expert -E1V in the United States and Canada. It is one of our best selling B/W portable ultrasound machines at an affordable price and provides a great experience for large animal exams and mixed practices. The A6V Expert -E1V is very popular among veterinarians.
Professional veterinary software: Canine, Feline, Bovine, Equine, and Ovine. Designed with vets in mind, the A6V Expert -E1V features a strengthened case, an anti-dust, and an anti-splash control panel. It is easy to carry with the built-in handle and weighs around 12 lbs or 6kgs. FDA approved for use in the USA. A6V Expert -E1Vcomes with one probe of choice. 
It has great customer reviews. "Amazing image quality, straight forward controls, very impressed!" Buyer: gerrost; "Great seller. Super fast shipment item exactly as described. A++++++ transaction" Buyer: agr643frat
Why Buy SonoScape A6V Expert - E1V?
SonoScape is a famous brand name ultrasound. Very popular all over the world because it produces excellent image quality that meets the needs of many doctors.

Wifi capability is included as standard, not a paid option.

 

Only much more expensive ultrasounds usually include WIFI capabilities in their machines.
The Veterinary Rectal probe (Model # L741V)

 

is unique in many ways and has features that other rectal probes do not have:

It has a high frequency of 4-14MHz and a lens size of 70mm. Experienced sonographers know the importance of having a long lens and high frequency because of the high-quality imaging it will produce. There is not another ultrasound on the market that features a rectal probe with such a high frequency. Even though there are some ultrasounds with a rectal probe that goes up to 10MHz, the downside is that the lens is sacrificed in size to 50mm or 55mm. Some ultrasounds do have a rectal probe with a lens size of 70mm, but with an adjustable frequency of only 5.5/6.5/7.5MHz. To make a rectal probe with high frequency and long lens 70mm is difficult, and only SonoScape has accomplished this.

The rectal probe has 128 Elements, which is also important for clear images. Most of the ultrasounds on the market have a rectal probe with only 80 elements.

The Cord is 10 feet in length. Most other rectal probes from other manufacturers are only 7 feet in length.

Unique Veterinary Abdominal Micro-Convex probe (Model # C613) (Cardiology, Pediatrics):

This probe has a frequency of 5-13MHz. Most probes have a frequency only up to 8MHz.

The C613 probe has a very wide-angle and is good for examinations of all sizes of dogs and cats.

The probe is also very small and lightweight and works well even with the smallest animals.

Unique Convex probe (Model # C344):

 

This probe has a frequency of 2-6MHz and penetrates very deep up to 350mm. Other ultrasounds have convex probes that only penetrate up to 250mm). Depth is very important for checking bigger animals, such as larger goats, sheep, pigs, and even horses. There is not another convex probe on the market today that works better for horses than the C344 convex probe.
Linear Array probe (Model #L741) (Vascular, Small Parts, MSK, etc.) Has a frequency of 4.0-16.0MHz and a 46mm lens.

 

Large 15" adjustable LCD screen: The LCD screen is much better than a CRT screen found on many other ultrasounds. It will produce a better image quality and it is also lighter in weight. The angle is also adjustable from 0-30˚ allowing for a better view of the screen.

Images are displayed largely, using most of the screen, making it very easy to work with. There are ultrasounds with 15" screen but the image is only displayed on half of the screen, which will produce an image similar to having a 10" screen.)

The machine has 32 channels, which improves image quality. Most ultrasounds with a comparable low price have 16 Channels and some have 24.

Sonoscape A6V Expert -E1V comes with a carrying bag on wheels standard. The retail price is $300. Most other ultrasounds have carrying bags as options at an additional cost.

Sonoscape A6V Expert -E1V comes with a built-in Lithium-Ion battery. For other ultrasound models a battery is optional and costs from $300-$500 extra.

DICOM is also included in the standard configuration. For many models, DICOM is optional and costs an extra $500.

A6V Expert -E1Vis lightweight; it weighs only 12LBs making it easy to carry.

Sonoscape A6V Expert -E1V comes with two probe connectors standard. For many other ultrasounds, a second connector is optional and costs $300.

A6V Expert -E1Vsupports many laser printers. Many models do not accept laser printers, which is very important since laser printers can be very affordable around $100-$150.

Features

Two probe connectors that are selectable via keyboard or hot swap

Net weight: Approx 6kg (without probe)

Built-in Linux system

Full digital beamformer

High resolution 15" LCD adjustable position monitor with anti-glare design with the image on the full screen

The back-lit operator panel is ergonomically designed for comfortable & efficient ease of use even in a dark room

Built-in storage & archive for doctor's later review, making the analysis easier

Clipboard functions for quick image capture or review

Cine Memory, Image memory, storage image

Measurable 8-steps TGC continuously adjustable 5 frequency selection for each probe, working frequency from 2.0MHz to 12.0MHz (probe depending)

Chroma: 8 types

Imaging modes:

 

B/ 2B/ 4B/ M

Tissue harmonic Imaging, Compound imaging, and Trapezoidal, & PW

Shortcuts Key

One button optimization integrated workstation

Document capability with USB storage, PDF report, AVI/JPEG, DICOM 3.0, etc.

Optional Accessories

Trolley for A6V Expert -E1V

Footswitch for A6V Expert -E1V for freeze

External DVD-RW for storage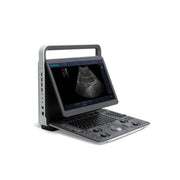 SonoScape A6V Expert-E1V
No problems, quick shipping, as described. Lots of features and seems like bells/whistles/image quality is a great deal for the money (compared to the 20-30k machines everyone else wants to sell me).
Excellent communication. This seller went above and beyond to help in every way. Super fast shipping…bought on Thursday, arrived following Wednesday from USA to Australia. Very, very happy customer here.
Excellent Step Up Machine
I purchased the EV1 when I needed a replacement for the old model A6. I loved my A6 but the difference in image quality, startup speed and image saving time is amazing. Keebovet was easy to work with and very accomodating.
SonoScape A6V Expert- E1V
Great purchase and rapid service! Worth every penny!