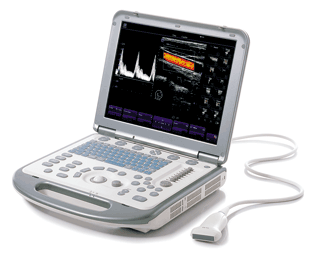 Used Mindray M5 Vet Ultrasound
Lightweight Laptop Style
The M5 has brilliantly clear color imaging capability and excellent 2D performance. Laptop style and lightweight - only about 13Lbs, M5 is portable making it suitable for all your practice needs. 
Take M5 with you anytime and anywhere!
Uniquely, with its small size, M5 is easy to transport, expanding its applications to more areas, such as ambulances, gymnasiums and operating theaters, as well as in the field. Benefiting from a fast boot-up, rechargeable batteries, and light-weight multi-frequency transducers. M5 is ready for scanning wherever and whenever necessary. 
High Performance Color Doppler
Includes THI (tissue harmonic imaging) for better contrast and resolution 
Has image homogenization function which fills the whole field of view up to a depth of 30cm 
Complete imaging modes: B, M, PW, HPRF, CW, Color, Power and DirPower
Newest function: iScape™ View (panoramic imaging) and trapezoidal imaging allow a wider field of view
iBeam™ function: a spatial compounding imaging technology, increases spatial resolution, thus collecting more useful information to generate higher quality images
The iClear™ function is an adaptive speckle suppression imaging technology that helps to visualize more tissue subtleties to improve diagnostic confidence
The iZoom™: automatically expands the image to full-screen, bringing you an easy scan
Very easy to use, navigate, and understand
Fast review, easy storage, and efficient management of patient data can be achieved with the intelligent information management platform iStation™
With a storage capacity of 160GB HDD, M5's short-cut and user-defined keys support off-line analysis of both data and images
The Mindray M5 system has DICOM, USB ports, DVD-R/W, DVD recorder and more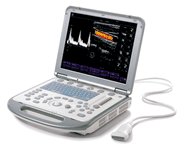 Used Mindray M5 Vet Ultrasound